Series: Briarcrest Academy #3
Release Date: March 1, 2015
Publisher: Ilsa Madden-Mills
Genre: New Adult
Source: Copy provided for honest review
Rating: ★★★★★



A sassy violinist who lives next door.

An obsessed rock star who watches her through binoculars.

And one night when she bares it all.

Life will never be the same in Tinseltown.




Vital Rejects front guy Sebastian Tate never imagined his YouTube music video would go viral, sky-rocketing him to acting success in Hollywood. Okay, maybe he did. After all, he's a cocky dude who knows he's hot-as-hell, and it was only a matter of time before his stars aligned.




But life in Tinseltown is never what it seems.




After being cheated on by his ex-lover, his only rule to falling in love is simple: Keep Calm and Don't Do It. So, spying on his mysterious new neighbor with binoculars seems innocent enough, but quickly escalates into an erotic game between two very unlikely people.




Twenty-year-old Violet St. Lyons is a world-renowned violinist who's lost her mojo on stage. She hides away in a Hollywood mansion, trying to find her way through her twisted past in order to make her future.




He's the life of the party with girls chasing him down for his autograph. She's the introvert with a potty mouth who doesn't even know who he is.




When they meet, stars collide, sparks fly, and clothes come off. Yet, giving his heart to a girl isn't Sebastian's plan; falling for a guy who craves attention isn't Violet's.




Welcome to Briarcrest Academy—Hollywood style—where sometimes the best things in life are VERY TWISTED THINGS.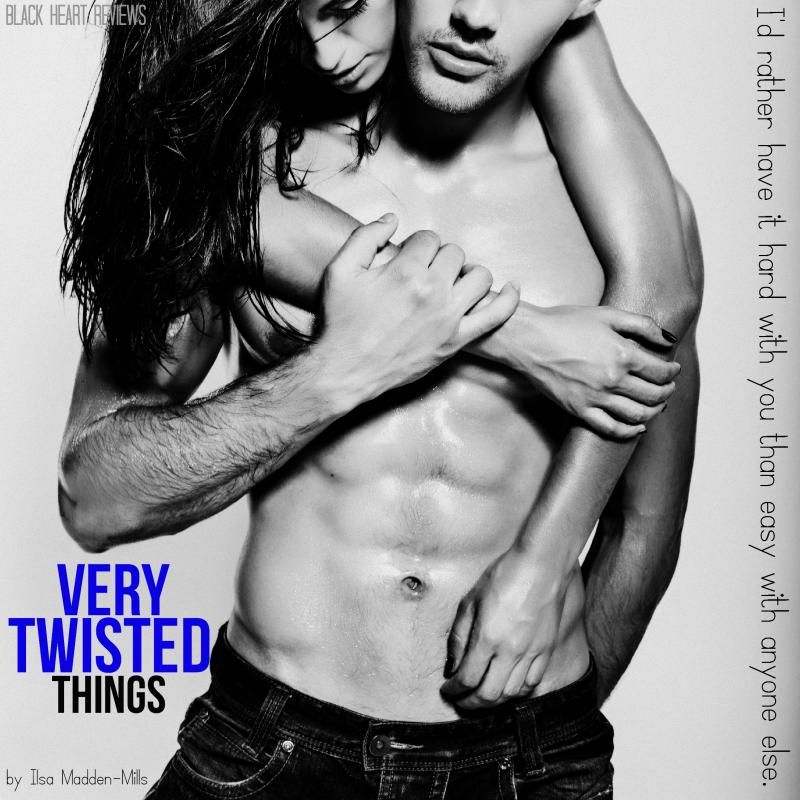 Very Twisted Things is Briarcrest Academy grown up style!
For the record, you CAN read this book as a stand alone - you will not be lost for not having read Very Bad Things or Very Wicked Things. That being said, you should read both of those books. ;)
The prologue of Very Twisted Things is one of the saddest and scariest things I've ever read. It completely drew me into Violet's head and compelled me to know how anyone could survive what she experienced.
Violet is a woman after my own heart. She's part fragile dove, part fierce lioness. She's lost her entire world, become somewhat of a recluse and is scared of so much life has offer her. Yet, when an absolutely gorgeous man moves in next door and starts spying on her with binoculars, she's all to willing to brave giving him his own private show. Even if that show ends with her flipping him the bird.
Sebastian Tate came to L.A. for one thing and one thing only. Fame. He'll do whatever it takes to be successful and not let his brothers sacrifices go to waist. Love only gets in the way and he's been burned by it before. He's not about to let it hold him up again. Yet, something about his quiet neighbor won't let him rest until she's part of his life.
And boy...when Sebastian sets his mind to something...damn. That boy is is fucking hot!
Trust is what these two both struggle with. Violet struggles to believe she can trust someone with her secrets and they won't just disappear, while Sebastian has to learn to trust that if he gives someone his heart they won't shatter it.
Both are cautious, both are drawn to one another like nothing before, both can be the ruin of each other or everything they never knew they wanted.
Madden-Mills has shown me with Very Twisted Things that she can write a story with much less of the drama she threw at previous characters and still have it hit its mark. You still feel the stress of life, the pain of heartache, the joy of new love. It's a more stripped down story, yet still dramatic enough to pull at all your emotions.
Like the previous titles, I find myself absolutely, wholeheartedly, forever in love with the characters Madden-Mills delivers.
a Rafflecopter giveaway